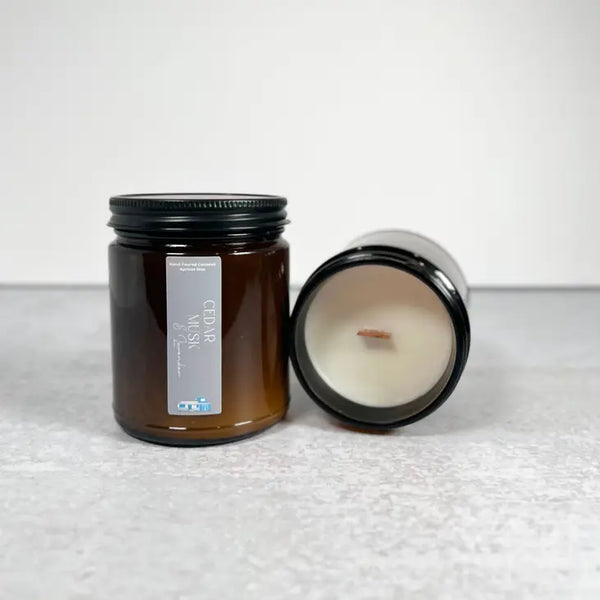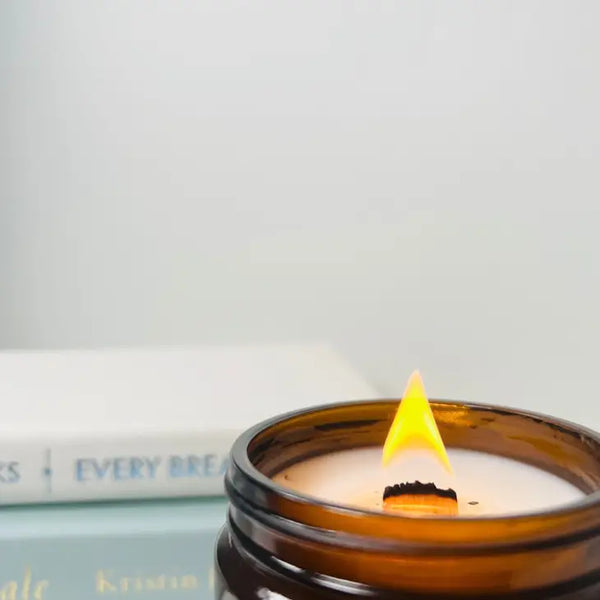 Our 8oz cedar musk & lavender candle is an empowering & masculine fusion of mahogany, cedar, geranium and resinous woods. Hints of lavender & musk round out this amazing scent that you will absolutely love.

36+ hour burn time


Crackling wood wick

Notes:

* top - cedar & musk
* middle - lavender
* bottom - mahogany, geranium & oak we use premium fragrance oils that are phthalate-free resulting in a clean burn that you will love!
Each candle is hand poured in small batches using an all natural coconut-apricot wax blend free of dyes and chemicals.

Always trim your wick before each use, removing all charred wood from previous burns.
Shipping & Returns
Shipping is FREE for retail orders over $75.00! Products typically ship out within 2-4 business days of purchase. We ship orders out Monday-Friday. 
Local pickup is FREE. When you get an email notification saying that your order is ready for pick up you can stop in anytime during our open hours (12-4 M-TH).
Replacements or exchanges will be determined on a case-by-case basis. Due to the personal nature of our products we cannot accept returned items if they are not in the original unopened packaging. If there is a problem with your order, please contact us as soon as possible so that we can resolve the issue.  We aim to provide you with an experience you will love. 
Providing an accurate shipping address is the responsibility of the purchaser, we are not responsible for the accuracy of the address inserted in the ship to address.  If the package returns to us we will be in contact with you to reship the package to an accurate address, reshipment fees may apply.  We will not refund based on shipping address errors, we will reship to the correct address.
In the event that the US Postal service or other shipping agency fails to deliver your package, the first remediation is for the customer to reach out to the USPS and ask about your package with your tracking number, if the package is truly lost we will be able to open a claim and work towards recouping the package insurance.  Our policy is if the package is truly lost we will reship the package, any refunds minus shipping fee will be considered on a case by case basis. 
We are committed to remaining eco-friendly, so we package our products using recycled materials, and we only use biodegradable packing peanuts, boxes, & Biolefin shrink film.